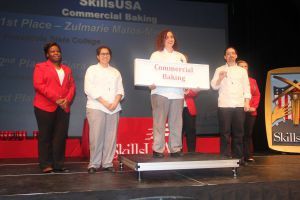 Published: 06-06-2017
Pensacola State's SkillsUSA chapter has done it again!
Eleven members of the college's team won gold and silver medals in five categories at the 2017 Florida State Leadership and Skills Conference held April 24 through 25 in Lakeland. They advanced to the national competition set for June 19 through 23 in Louisville, Kentucky.
SkillsUSA is a national organization with more than 13,000 chapters, which serves more than 300,000 student-members and instructors each year. The organization improves the quality of America's skilled workforce through a structured program of citizenship, leadership, employability, technical and professional skills training.
Headed to the 53rd Annual National Leadership and Skills Conference are Shatori Brokington, Samantha Dudley, Nicole Floyd, Robert Lloyd Tjossem, Selena Arnold, Tia Henry, Elizabeth Bradford, Candis D'Ann Calvert, Meredith Juli Golden, Morgan Lundquist and Kareena Manassa. The student-members will be joined by SkillsUSA advisors – Tony Grahame, Sonja McCall-Strehlow and Mary Turner.
Pensacola State President Ed Meadows is proud of the SkillsUSA student-members and their accomplishments.
"When we compete at the state level, we are going up against students from colleges and universities across Florida," he noted. "To have such an outstanding outcome at this level speaks volumes about our student-members, their advisors and their professors. We enter competitions prepared and it is rewarded with success."
Jennifer Ponson, Region 1 SkillsUSA director and Pensacola State coordinator of Student and Program Outreach, described the college's delegation as the best of the best.
"Even when we go to the national competition, our students still shine brightly," she said. "These students face other great teams in Louisville but they always make us proud."
In 2016, the Pensacola State chapter was one of only two community colleges in the nation to receive the Models of Excellence Award at the national conference.
In December, Lowe's presented the chapter ─ a 2016 SkillsUSA National Models of Excellence Recipient ─ with a $2,000 grant. The award is the highest level of the SkillsUSA Chapter Excellence Program and included the grant.
At the state competition, Pensacola State winners and their categories are:
Career Pathways – Business, Management, Technology
● Silver – Team A: Jazmine Crane, Kacey Lambert and Desja Ramirez; Advisor Donna Mathias
Career Pathways – Industrial and Engineering Technology
● Gold – Team A: Shatori Brokington, Samantha Dudley and Nicole Floyd; Advisor Donna Mathias
Carpentry
● Silver: Robert Lloyd Tjossem; Advisor Tony Grahame
● Bronze: Ryan Martin
Esthetics
● Gold: Selena Arnold with model, Tia Henry; Advisor Sonja McCall-Strehlow
Cosmetology Quiz Bowl
● Silver: Team A – Robin Haley Brightman, Kayla Epstein, Leaona O' Neill, Leigha Sanford and Rebecca Spivey; Advisor Yvette Goolsby
Career Pathways – Health Services
● Silver: Team A- Duong Doan, Elizabeth Le and Lauren Patane; Advisor Donna Mathias
Commercial Baking
● Silver: Zulmarie Matos-Medina; Advisor Chef Jimmie Langham
Health Knowledge Bowl
● Gold: Team A – Elizabeth Bradford, Candis D'Ann Calvert, Meredith Juli Golden and Morgan Lundquist; Advisor Mary Turner
● Silver: Team B – Diane Stewart, Rodd Monzon, Christopher Porquiado and Toshi Rozzell; Advisor Donna Mathias
Job Interview
● Gold: Kareena Manassa; Advisor Donna Mathias