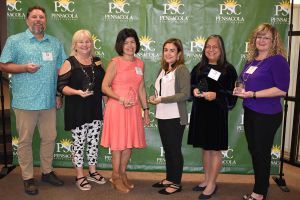 Published: 11-04-2021
Troy Moon, Pensacola State College
It's been another tough year, but Pensacola State employees worked hard through 2021 to continue the College's tradition of service and commitment to students and the community.
On Oct. 28, 11 of the College's best Professional and Career Service staff members were honored at the 2021 Employee of the Year ceremony held in the G. Thomas Delaino Student Center on the Pensacola campus.
The employees bring standards of excellence and commitment throughout various departments at the College with honorees working in fields such as accounting, recruiting, marketing and more.
"I can't tell you how important you are to the College," said PSC President Ed Meadows, speaking at the ceremony, which was attended by recipients, their family, friends and coworkers. "You do such an outstanding job with the College and you give not only with your time, but with your heart. In receiving this recognition, you set a bar for others not only in your department, but throughout Pensacola State College."
Employee of the Year recipients were nominated by fellow employees and Meadows made the final selections.
"I went to Pensacola Junior College back in the day and have had two aunts work here for many y ears prior to me coming on board, so I kind of feel like it's in my blood," said honoree Tracey Burgess who is Digital Arts and Graphics Design Coordinator for WSRE, a PBS station based at PSC and licensed by the College.
She's been working at PSC for nearly 19 years.
"I truly love working with so many wonderful people who I consider my extended family. It's pretty cool working for an organization that helps to make an impact in people's lives."
PSC Comptroller Nan Jackson was also recognized.
"After 27 years of employment here at PSC, I can officially say I have been here more than half of my life," Jackson said. "It is so rewarding to be a part of an institution that invests in the dreams of our students. I have also had the opportunity to work with some amazing people who have supported, inspired and encouraged me along the way."
The 2021 Employees of the Year, with comments from the nomination letter include:
Career Service Employees of the Year
● Lanatta Barrett, Senior Administrative Assistant/Accounting Records Specialist, Comptroller Department
"Lanatta is a treasure for the Comptroller's Office. She performs her job duties very well and is always willing to help by taking on additional tasks in a crunch no matter how busy she is at the time. She is very thorough and has a keen eye for detail. She is always available to listen and provide advice or a new perspective on a problem. Her cheerful personality brightens up the Comptroller's Office daily. She keeps us laughing and lightens the mood in the office during stressful times. We love her even when she starts counting down to Christmas in February."
● Maria Brake, Admissions and Records Coordinator, Records Department
"Maria goes far and beyond especially when it comes to assisting with students. She is always available when an employee or student calls. She is one of the first people to touch an application when a student applies and is one of the last to make sure they are ready to graduate. She has been at the College for about 20 years. I remember around 15 years ago, I applied to Pensacola State College as a student and the first email I received was from a Maria Brake welcoming me with my next steps moving forward. Maria is a true asset to this College."
● Fred Holt, Associate Coordinator, Restricted Accounting, Comptroller Department
"Fred takes ownership of any tasks assigned to him with enthusiasm and commitment to success. He overcomes obstacles through his determination and persistence to find the best solution that works for all. He is a team player as was demonstrated through his service on the Workday implementation team. Fred thoroughly tested and modified a myriad of transactions which ensured proper workflow and accuracy in the College's financial reporting system. Fred is a perennial seeker of knowledge and is a critical contributor to the mission of Pensacola State College."
● Emma Johnson, Administrative Assistant, Business Department
"Emma is on time, present and reliable. With so many timeliness requirements, she does a fantastic job of monitoring all deadlines and communicating with the instructional faculty to ensure all deadlines are met. She approaches every day with excellence and a smile. Emma is the organized, strong, well-oiled machine that keeps the Business Department functioning properly! She is diligent about making sure we get our syllabi and door schedules squared away each semester. Emma doesn't just manage the tasks of the department with competence and speed, she does so with enthusiastic and friendly flair. Truly, Emma Johnson is synergy personified.
● Denise Reyes, Financial Aid/Veterans Services Specialist, Financial Aid Department
"Denise started her role as a work study peer advisor and, after graduation, was encouraged to apply due to her excellence in the role and drive for more responsibility. While working full-time, she continued her education by starting a Bachelor of Applied Science program within Business and Management. Additionally, she was recently elected to be the president of PSC's chapter of Student Veterans Association. She is dedicated to the students that she supervises and leads within SVA. I have never seen such a clear example of servant leadership."
● Penny Taylor, Administrative Assistant/Retention Specialist, TRIO Student Support Services
"Penny's helpfulness and positive personality are what truly sets her apart. She communicates important information to students but does so with humor and joy. She does such a great job that one of our students wrote a winning NISOD essay about the impact Penny had made in her life. Penny sees her job as a calling and puts her heart and soul into it. This goes way beyond what she is paid for and, while she is flexible and dependable, what makes her an outstanding employee is that she brings all these qualities together under the umbrella of care and concern."
Professional Employees of the Year
● Tracy Burgess, Digital Arts and Graphic Design Coordinator, Marketing and Communications, WSRE-TV
"Tracey is an outstanding employee in every way. Her design and production work are consistently recognized with annual ADDY Awards. And she puts just as much thought and creativity into small projects as she does large projects that may be seen by a national audience. Her work greatly contributed to the Hank Locklin documentary winning WSRE's first Gold Telly Award in 2021, which placed us in the company of powerhouses like the Smithsonian Channel, ESPN and Florentine Films. Because she is such an exemplary employee, Tracey inspires me every day to be better at my own job!"
● Lynne Butcher, Student Services Specialist, Educational Talent Search Department
"Lynne is a very kind, caring, strong, and inspirational person. Without her in our office, we lose our spark. She drops whatever she is doing when someone in the office needs help, while still able to complete all her work. She looks after every person who comes through our doors, and she makes each of our students feel at home. She is the most inspirational person I know. She does everything with a smile, even on bad days; she has the hardest work ethic I've ever seen, doing it all out of love of our students (even working on holidays); and she is the biggest advocate of our TRIO program and PSC, speaking and promoting each wherever she is and to whomever she can."
● Kathy Dutremble, Dean, Student Affairs, Student Affairs Department
"Kathy is an extraordinary leader, always going above and beyond to take Student Affairs and Pensacola State College to new heights. She is a cheerleader for those she supervises and other staff she interacts with at the various campuses. She always considers the ethical and 'right' approach to managing operations and leading. She often infuses humor in conversations that don't require a serious tone; this levity makes tasks seem a lighter and even bad days a little brighter. Even during challenging times like COVID-19, she helps us all remember our important purpose for being here and lends rays of sunshine to some circumstances that might seem daunting for some. Kathy is a model of the type of leader l am still aspiring to become."
● Jill Hubbs, General Manager, WSRE-TV
"Jill Hubbs is committed to all things education and is a self-described teacher at heart. She is a passionate advocate for our students and lifelong learning. Jill is the type of leader who is comfortable mopping up a floor or speaking before hundreds in support of our Armed Forces, War Heroes, Law Enforcement ─ all First Responders recognizing the accomplishments of so many. She works diligently at WSRE, ensuring quality both on air, at our College, and in our community. The Learning Lab and WSRE Imagination Station was the first of its kind, in the collection of 188 Public TV licensees covering 99 percent of the country. We are fortunate to have her as a leader, advocate and a team member."
● Nan Jackson, Comptroller, Comptroller Department
"Nan is the most efficient employee I've had the pleasure to work with. She is detail-oriented and is always ready to jump into any problem to work out solutions. She is not afraid to reach out when she needs assistance, and it's easy to help because she is so kind and warm to everyone. She connects easily with everyone, no matter the department. Nan took on the project of Workday with the goal of making everyone's lives run smoother and she takes on extra hours to make sure Workday is working correctly. Her department really loves to work for her and is what to make her proud. Nan makes PSC a better place every day!"