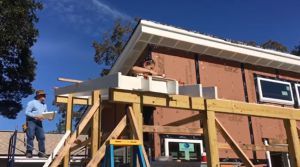 Published: 11-22-2019
House will be sold to first-time home buyer
By Troy Moon, Pensacola State College
Some Pensacola State College students come to class at a growing – but not too big – structure on Tarragona Street. There, they use math and engineering skills, and a good dose of physical strength and muscle, to earn their grades as they hammer wood into a house.
PSC's building trade students are building a prototype, energy-efficient, 600-square-foot mini-home for the Escambia County Housing Finance Authority. When complete, the dwelling will be sold to a qualified, first-time homeowner at an affordable rate.
Carpentry instructor Tony Grahame said there are 16 carpentry students working on the project, as well as students from other building trade programs such as electrical and HVAC (heating, ventilation and air conditioning).
"The students are building a high-performance home – very energy efficient, healthy, durable, comfortable, even resilient if you look around at some of the details," Grahame said "This house is designed to use very little energy and have low operating costs… It's really resistant to storms ─ especially hurricanes."
Though the home is only 600 square feet, it also contains a 300-square-foot wrap-around covered porch and solar panels to further reduce electrical costs. The home is a prototype based on a University of South Florida design, though Grahame said Pensacola State was given latitude in making changes when necessary.
Pensacola State students began construction on the home in fall 2018. Construction should be completed by May, Grahame said.
The Escambia County Housing Finance Authority is funding the project. The organization has existed since 1982 to support the development of affordable single-family housing in Escambia County. Pat Lott, executive director of the Escambia County Housing Finance Authority, said she expects the house to sell for under $80,000. The single-bedroom home has a kitchen, living room and bathroom.
"It's pretty cool, isn't it?" Lott asked of the structure. "We're very excited about it. It's our first venture into the mini-house market… And the students are amazing. They came over one day to meet us and you could tell they were really excited about the project."
On a sunny Monday afternoon, carpentry student Rajah Zullo hammered nails into the rafters of the front porch roof.
She had previously enrolled in the College's teachers' education program but switched gears about a year ago.
"I didn't really like the idea of sitting around in class," Zullo said. "I wanted to learn a trade – something that I can pass on. I'll think about teaching again later."
PSC student Adam Grew is a retired U.S. Army veteran who has already completed electrical and HVAC courses at Pensacola State. Now, he's a first-year carpentry student who hopes to become a general contractor.
"There's a lot more to carpentry than people think," Grew said. "There's a lot of math involved. A lot of perfection. It's not just slapping things together."
To learn more
For more information on enrolling in Pensacola State College's carpentry, electrical and other building trade classes, contact (850) 484-2586 or visit https://www.pensacolastate.edu/departments/engineering-tech-programs/.