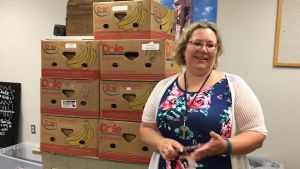 Published: 06-09-2020
Troy Moon, Pensacola State College
In the Pensacola State College Student Government Association office, Mel Miner looked over the bounty of food stuffed in the room – boxes and bags filled with canned goods, peanut butter, mac-and-cheese and a full menu more.
It is food collected during the just-ended Food Drive organized by the PSC Association of Florida Colleges chapter, of which Miner is president.
"I'm excited,'' she said, looking over the food items, which will help stock the Pirate Food Pantry as well as provide meals to students who have been identified as facing "food Insecurity" issues, especially in the wake of the COVID-19 pandemic that has affected all walks of life. "And we still have more donations coming in to help our students in need. Our faculty and staff have been wonderful and generous."
Food collected will be distributed to all PSC campuses and centers and then be available to students in need.
PSC Student Service Advisor Ashley Faulkner contributed seven banana boxes filled with food items to the drive.
"I was really just a go-between,'' explained Faulkner, who collected the items from a local activist who had offered food to distribute.
"She had a ton of stuff to give away and told me to just take it. It's been a tough year for everyone, and our students can be particularly affected by a major event like this. We need to make sure we're looking out for them, because some of them are perhaps vulnerable."
For information on the PSC Food Pantry, contact Katie Hudon, Director of Student Services, at 484-2273.
PHOTO: Mel Miner, president of the PSC Association of Florida Colleges chapter, looks over some of the food donated to the recent Food Drive.