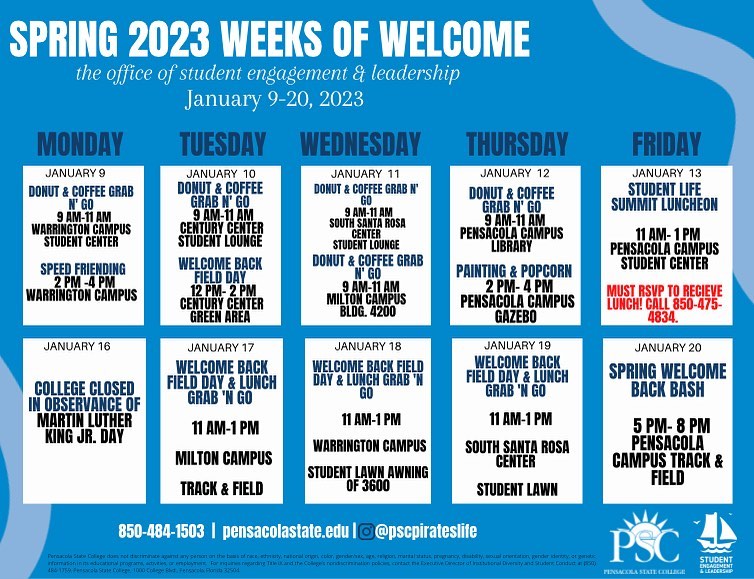 Sure, the "official" forecast right now is low temperatures in the high 50s in Pensacola on Friday, Jan. 20.
But at Pensacola State College, we're expecting snow and ice skating that day when the "Winter Wonderland"-themed 2023 PSC Welcome Back Bash takes place in the Pensacola campus track and field area.
The Office of Student Engagement and Leadership's Student Activities is hosting the event from 5-8 p.m. and has contracted with a company that will bring a snow machine to campus as well as a temporary ice skating rink that will accommodate up to 40 skaters at a time. The company also provides the ice skates. (PSC will not be held responsible for any occurrences of embarrassing hilarity.)
Student Activities hosted a carnival-themed welcome back event in the fall.
"The first one went really well so we wanted to do something similar for the spring semester,'' said Keyaundra Mobley, Student Engagement and Leadership Coordinator. "We're going to have some games too and hot chocolate and pizza."
That's just one of the events that Student Activities has planned in the first few weeks of January.
On Friday, Jan. 13, a Student Life Summit Luncheon will be held 11 a.m.-1 p.m. in the Delaino Student Center, Building 5, on the Pensacola campus. Students must RSVP at 850-475-4834 to receive lunch.
"Students are coming to PSC for the first time or returning back, and this is an opportunity to get together and open the conversation about how we can better improve student life and meet their needs,'' Mobley said.
There also will be Welcome Back Field Day and Lunch Grab 'N' Go events at the Milton campus track and field area on Tuesday, Jan. 17; the Warrington campus Student Lawn on Wednesday, Jan. 18; and the South Santa Rosa Center Student Lawn on Thursday, Jan. 19.
Each event is scheduled for 11 a.m.-1 p.m. and will feature free food and various games and contests.  An event at the Century Center was held on Tuesday, Jan. 10.