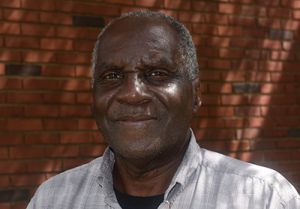 Published: 09-10-2019
If you need a task done, Robert Seay is one of the go-to people at Pensacola State College.
For that reason and many more, Seay has been selected the Association of Florida Colleges chapter Member Spotlight for September.
The central services supervisor in the Receiving Department has been a Pensacola State employee for nearly 20 years, and an AFC member for 11 years.
"I'm really humbled by this recognition. Pensacola State is a wonderful place to work. I enjoy being a member of the AFC – the College chapter does so much good in the community," said Seay, who is one of the 2018 PSC Employees of the Year.
The Brooklyn, New York, native said he interviewed for a job in the mailroom because the College sounded like a great place to work.
"After close to two decades, I would make the same decision again," he said, adding he believes in the College so much that he encouraged his daughter, Destiny, to further her education here.
"Robert's willingness to help out with community service projects and fundraisers has been second to none," said Melonie Miner, president of Pensacola State's AFC chapter.
"And he can always be found selling flowers during the Pensacola State commencement ceremonies at the Bay Center in May and December. Whatever you ask of Robert ─ he will do it an outstanding job and with that trademark smile that we all love."
Along with volunteering at various events, Seay served on the 2017-18 and 2018-19 Pensacola State Chapter AFC Executive Committees as secretary-elect and secretary, respectively. He also represented the AFC chapter and the College at several state conferences including the AFC Leadership, Legislative and Annual Conferences.
Most recently he coordinated the pick-up and drop-off of the many school supplies donated for the United Way Stuff the Bus campaign.
"Without active members, like Robert, our chapter wouldn't be able to accomplish half of the stuff we take on throughout the year," Miner added.