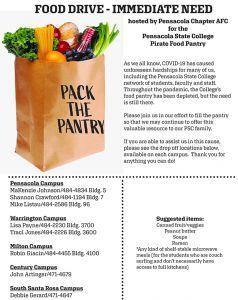 Published: 05-27-2020
Pensacola State College's Association of Florida Colleges chapter is hosting a food drive for the Pirate Food Pantry.
Nonperishables such as canned fruits and vegetables, peanut butter, soups, ramen noodles and other shelf-stable microwave meals will be accepted through 5 p.m. Monday, June 8, at most PSC campuses and centers.
"Many of our students are struggling financially and can't even afford the basic necessities such as food right now because of the coronavirus pandemic," said Mel Miner, AFC chapter president. "As a College family, we just want to help them through this tough time."
To donate food items, contact:
● Pensacola Campus: Makenzie Johnson at 484-4834, Shannon Crawford, 484-1194, or Mike Listau, 484-2586.
● Warrington Campus: Lisa Payne at 484-2230 or Traci Jones, 484-2226.
● Milton Campus: Robin Giacin, 484-4466.
● Century Center: John Artlinger, 471-4679.
● South Santa Rosa Center: Debbie Gerard, 471-4647.
Food insecurity ─ defined as limited or uncertain availability of nutritionally adequate and safe foods ─ is a real issue for many college students during the best of times, Miner added.
"A 2018 Government Accountability Office (GAO) report found that estimates of food insecurity among college students ranged from 9 percent to more than 50 percent," she said. "This was years before we even heard of COVID-19, when our economy was strong. Imagine what our students are facing now especially when many of them work in the service industry."
Nontraditional students also face higher rates of food insecurity.
"Community colleges and trade schools ─ institutions that attract students who are more likely to be a single parent, receive federal food-assistance benefits or be the first in their family to attend college ─ are the hardest hit, according to the report. This describes many of our students," Miner noted.
Dr. Lynsey Listau, executive director of Institutional Equity and Student Conduct, echoed Miner's sentiment.
"Yes, the need has increased. Of the students who have been awarded emergency grants/student relief fund grants, 71 percent of them list food as an area of need," Listau said.
"This was the greatest reported area of need for students!"
Dr. Debbie Douma, dean of Grants and Federal Programs, applauded the AFC for holding the food drive.
"Some of my neighbors in Aragon recently held an impromptu food drive for our student food pantry over the Memorial Day weekend, and I know firsthand people want to help out," Douma said. "I was getting deliveries dropped off by neighbors all weekend.
"So many people are hurting financially during this pandemic, and food insecurity is real ─ especially among college students and others living on the fringes."
Employees who are not able to donate to this drive before June 8 can help at a later date.
"We set the June deadline but will be helping the Food Pantry as long as there is a need," Miner said.
The Food Pantry reopened several years ago, and sites are located on the Pensacola, Milton and Warrington campuses and Century and South Santa Rosa centers.