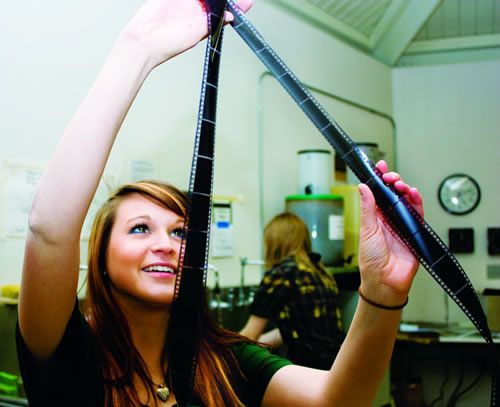 Contact the Pensacola State College Visual Arts Department for assistance in planning your program of study.
View Course Requirements
SEARCH PROGRAMS
INTRODUCTION
The College Credit Certificate in Photography is an entry-level photography credential designed to prepare students for employment in the field of photography. Recipients of this certificate will possess the skills to work with SLR and DSLR cameras, photographic materials, studio lighting, and video production. The program is composed of selected courses offered within the Associate in Science degree in Photographic Technology. Each student is strongly encouraged to consult an advisor or counselor prior to course registration.
IS THIS FOR YOU
People in this career usually have artistic skill, enjoy creating original work and have a good imagination. They generally have social skills as well as good eye/hand coordination. They have been described as impulsive, ambitious, imaginative, intuitive, and patient.
BEYOND GRADUATION
Photographers may start out as assistants to experienced photographers. Assistants acquire the technical knowledge needed to be a successful photographer and also learn other skills necessary to run a portrait or commercial photography business. Freelance photographers should develop an individual style of photography to differentiate themselves from the competition. Some photographers enter the field by submitting an unsolicited portfolio of photographs to magazines and to art directors at advertising agencies; for freelance photographers, a good portfolio is critical.
Occupations
Photojournalists
Work for publications such as magazines, newspapers, and other print and electronic media. Their focus is generally on the documentation of events in a clear, illustrative way that speaks for itself as well as enhancing text. A Photojournalist's work takes the min to the field to cover news events, sports, and human interest stories, among others. Photojournalists may also work as freelancers.
Creative Photographers
Are artist/photographers whose work is directed at personal artistic expression and is often shown in art galleries, museums, and competitions.
Photo Restorers
Take old or damaged photos and restore them by using digital scanning and Adobe Photoshop.
Portrait Photographers
Are skilled at the studio techniques of lighting and backdrops to produce a variety of portraits of lasting interest in black/white and color.
Freelance Photographers
Are in business for themselves and are employed, usually on short assignments, by many different clients and might entail any type of photographic situation. While a freelancer has considerable leeway in managing their own schedule, being successful means building a group of clients, having a knowledge of business practices, understanding effective advertising, and knowing how to promote themselves.
Other Occupations
Commercial Photographer
Photo preparer
Sports Photographer
Photo Conservator (in prepress companies Photo Illustrator or the printing industry)
You May Also Be Interested In...