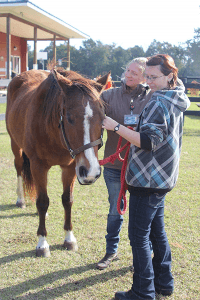 Published: 10-25-2018
Explore the possibilities of a career in veterinary nursing and visit with the "animal ambassadors" at Pensacola State College's Veterinary Technology program Open House on Thursday November 8 from 3-7 p.m. on the Warrington campus, 5555 W. Hwy. 98.
The public is invited to this free event and will have the opportunity to tour the College's state-of-the-art facility, located in Building 3200. Students, faculty and staff will be on-hand to answer questions about the program, admissions, prerequisites, financial aid and career options. There will also be an exhibit by the Student Chapter of the National Association of Veterinary Technicians in America (SCNAVTA).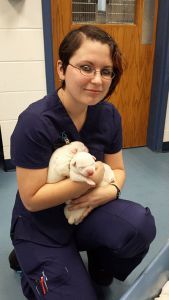 Veterinary Technology program director Sarah Meyer-Paterson, CVT wants to change the perception that Credentialed Veterinary Technicians are just glorified groomers. "We are not just here to hug puppies and kitties," said Meyer-Paterson.
"Our program covers medical and surgical nursing, radiology, lab diagnostics, clinical procedures, anesthesia, animal husbandry and dentistry," Meyer-Paterson explained. "Our students also complete clinical rotations at veterinary hospitals that afford them opportunities to demonstrate their knowledge and practice skills in real world settings while also preparing them for the realities of the workplace."
Meyer-Paterson added that Pensacola State's Veterinary Technology program is accredited by the American Veterinary Medical Association's Committee on Veterinary Technical Education and Activities.
"This accreditation enables PSC program graduates to sit for the national board exam to earn credentials in the state where they choose to practice," Meyer-Paterson said. "While most graduates stay in the local area, some have ventured to other states to practice and advance their careers within veterinary nursing. Credentialed veterinary technicians play a major role in animal and public health."
Employment opportunities abound locally and across the country in veterinary hospitals, biomedical facilities, wildlife facilities, academia, industry and more. According to the U.S. Bureau of Labor Statistics, employment of veterinary technicians is expected to grow 19 percent nationally, faster than the average for all occupations, through 2024.
The Veterinary Technology program is also collecting donations of food and pet supplies through December 1 for local organizations and shelters, as well as those affected by Hurricane Michael. Supplies and monetary donations are welcome and can be dropped off at the Dean's office on the Warrington Campus in Building 3700, in the library on the Pensacola Campus in Building 20, the Dean's office on the Milton Campus in Building 4200, and the Director's office at the South Santa Rosa Center in Building 51.
For more information, email PSC Vet Tech program director Sarah Meyer-Paterson at smeyer-paterson@pensacolastate.edu, or call 850-471-4673.