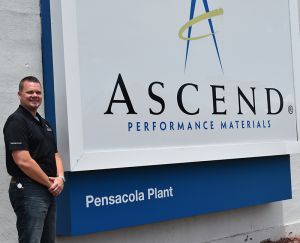 Published: 08-14-2018
While the country was dealing with the aftermath of the economic crisis in 2009, Troy Warren was dealing with his own personal crisis.
"I was 30 years old, living with my mother, making $10 an hour and scratching my head not knowing what I was going to do," said Warren, who hoped to turn his computer hobby into a career.
"Pensacola State College changed my life."
Warren's interest in computers began in 1998, a year after he'd graduated high school. He laughed that his first desktop computer, a salvaged-from-a-fire freebie a friend had given him, ran Microsoft Windows 95 as its operating system.
"My passions began there. I started learning about components of computers, how to build them to be faster and more capable," he said.
His hobby didn't pay the bills, though.  After high school, Warren tried his hand at a variety of vocations: tire repairs and oil changes, working in restaurants, repairing CB radios and selling car stereos. He moved into management at a rent-to-own retailer, but he describes his career path as leaving him feeling worthless.
"I wasn't being compensated for what I was truly able to do because I didn't have my degree," Warren recalled.
With the economic downturn in full swing, Warren knew he had to make a change. He moved in with his mother and made her a promise: He was going to go to college and earn his degree. He decided a degree in Information Technology (IT) would combine his love of computers with the ability to earn a good income. He decided Pensacola State was where he'd go to get there.
It was early August 2009 and he didn't have much time before classes began. He completed his FAFSA application and was amazed at how simple it was to secure funding and register for classes in just a few days' time.
"The financial aid department took good care of me. It was like a puzzle came together for a brighter future," Warren said.
By 2012, Warren was working for a small upstart IT firm and had four certifications under his belt that he'd earned at Pensacola State ─ Network +, A +, Security + and Project +. He was three months shy of earning an associate degree when a recruiter who had seen his resume online called asking if he'd be interested in an interview with Ascend Performance Materials. Warren asked to be scheduled for the last interview, and was prepared to blow them away with his qualifications.
"I had not even graduated yet, but they hired me. They knew that degree was coming. What Pensacola State College did for me was it opened the door of opportunity," Warren said. "Without that degree, I would have never gotten the interview to get the job to get my foot in the door to prove what I am capable of."
In October 2012, Warren went to work for Ascend. And in December 2012, he graduated from Pensacola State with his associate degree in Computer Information Technology.
Ascend is one of the world's largest fully-integrated producers of nylon 6,6 resin.  The Pensacola plant manufactures carpet fibers, adipic acid (which is used in jello and bottled drinks) and plastic pellets used worldwide in a variety of applications for things like car parts, zip ties and Sharpie markers.
"Every time you look at a Sharpie marker, you're looking at a polymer that comes from this facility right here," boasted Warren, who is classified as a field support technician for the service team.
"As an IT person here in the field, we support this entire site and all five sites in the U.S. as well as three abroad -─ Belgium, the Netherlands and Shanghai."
He said his job entails everything from helping someone with a password issue to researching and implementing technology solutions that enable Ascend to operate more efficiently to resolving security problems with company-issued devices.
"I wear so many hats," Warren explained, though he doesn't seem to mind. "I love working for this company."
He praised the integrity of the company as a safety-driven and community-oriented work environment. He said enjoys excellent compensation with a package that includes paid leave, bonuses and other benefits … like tuition reimbursement.
"I am getting a full ride from Ascend Performance Materials for my cybersecurity degree at PSC," smiled Warren.  He is working at his own pace and expects to earn his bachelor's degree in 2021, praising his instructors as "top tier."
Warren has a newer hobby that he shares with his wife, Janet – scuba diving.  Thanks to the fact that he's no longer working paycheck-to-paycheck, not only can they dive from their own boat, but they've been able to travel to other states and the Caribbean to pursue the hobby.
"What I had to learn in 15 years of struggle was that I was trying way too hard to accomplish way too little without the right tools," Warren said.
And he's been able to keep that promise to his Mom.
"My mom tells me how proud I make her now that I 'finally' made it," Warren said. "She also tells me, 'I always knew you could get there.'"