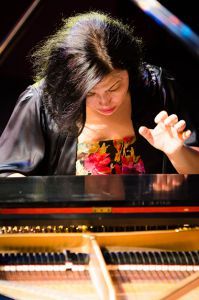 Published: 09-27-2018
Steinway Artist Kadisha Onalbayeva is the featured performer at Pensacola ComposerFest XIV set for 2:30 p.m. Sunday, Oct. 14, at Pensacola State College.
Onalbayeva will perform seven compositions for the piano at the festival in Ashmore Auditorium, Building 8, on the Pensacola campus.
Open to the public, the free event provides an opportunity to hear a variety of new vocal and instrumental music written by contemporary composers – many of whom will be in attendance. Several of the works on the program also are world premieres.
Compositions by Onalbayeva, Michael Coleman, Kevin Fails, Monroe Golden, Lawrence Moss, William Price, Edwin Robertson, Joseph T. Spaniola, Joe Stallings and Gulzhan Uzenbayeva will be presented.
Vocalist Corey McKern, Kevin Fails (French horn), Blake Riley (piano), Tom Baroco (piano), and the Pensacola Guitar Orchestra under the direction of Dr. Joe Stallings also will perform.
For more information on Pensacola ComposerFest XIV, call the Lyceum Box Office at 850-484-1847.