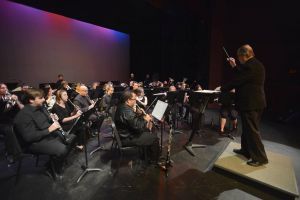 Published: 04-08-2016
Pensacola Civic Band presents "Sousa with a Twist" featuring world renowned euphonium player Adam Frey in concert at 7:30 p.m. Saturday, April 9 at the Saenger Theatre, 118 S. Palafox Place.
Come experience a re-creation of a concert that the Sousa Band performed at Pensacola High School in 1924. As with all Sousa concerts, the program includes his marches, overtures and a vocalist and instrumental soloist.
One of the elite brass soloists in the world, Adam Frey travels the globe invigorating the international music scene with his virtuoso talent, sensitive lyricism and connection with audiences. Whether Frey is performing with orchestras, wind bands, brass bands, or in solo recitals, audiences love his charismatic personality and accessible musical interpretations and critics rave over his technical prowess and championship of the euphonium. Frey performs De Luca's "Beautiful Colorado," Hartmann's "La Belle Americaine," Lewis Buckley's arrangement of "The Yellow Rose of Texas," and Puccini's incomparable "Nessun Dorma."
The concert also features Sewell Jeter Griffith, soprano soloist, in two songs arranged especially for this concert by PCB musician, Marianne Carlton. These songs were written about Pensacola in the early 1900's and have never been presented in a concert setting until this evening. Griffith sings "Way Down in Pensacola" written by Leslie Stuart in 1908 and "Pensacola Town" written by Adrien LeBonte and Lewis Goodwin in 1915. Also the "Pensacola March and Two Step" written in 1905 by Rupert Giles will be premiered.
The "Twist" in the concert features a GoPro camera mounted on the forehead of conductor Don Snowden giving the audience the conductor's view on the selection, "Liebestod" by Richard Wagner.
Sponsored by Pensacola State College, the Civic Band is directed by PSC Performing Arts Department Head Don Snowden.
Tickets are $10, plus applicable service fees, and are available from 8:30 a.m. to 4 p.m. Monday – Friday at the Lyceum Ticket Office at the PSC Ashmore Center, Building 8, on the Pensacola campus as well as the Saenger Theatre Box Office. For ticket information and reservations, call 850-484-1847. To learn more about the concert and the Pensacola Civic Band, visit www.pensacolacivicband.org.