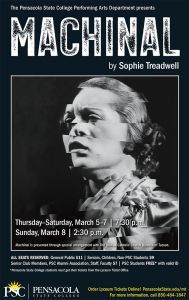 Published: 01-16-2020
Pensacola State College will hold auditions for "Machinal" at 7 p.m. Tuesday and Wednesday, Jan. 21 and Jan. 22, in Ashmore Auditorium, Building 8, on the Pensacola campus, 1000 College Blvd.
A play by American playwright Sophie Treadwell, "Machinal" was inspired by the real-life case of Ruth Snyder who was executed at New York's Sing Sing Prison for the murder of her husband. The play, first staged in 1928, is considered one the high points of Expressionism theater on the American stage.
The play will be staged March 5-8 in Ashmore Auditorium.
Auditions will consist of readings from the script. Adult actors of all ages are needed, however there are no parts for children.
For more information, contact Rodney Whatley at 850-484-1807 or email rwhatley@pensacolastate.edu.