Virtual event takes place March 8-11 and offers information on financial aid, registration and more
Troy Moon, Pensacola State College
Hold on, things are about to get crazy at Pensacola State College. You might even find out that you can attend PSC at little or no cost.
It's a frenzy! The first-ever PSC Virtual Financial Aid Frenzy takes place from 4 to 6 p.m. Monday-Thursday, March 8-11.
To register (required) for the Zoom event, go to PensacolaState.edu/FinancialAidDay.
PSC counselors from Enrollment, Registration, Financial Aid and the Educational Opportunity Center will be on hand to help new and returning students with information and resources to get them registered and enrolled at the College.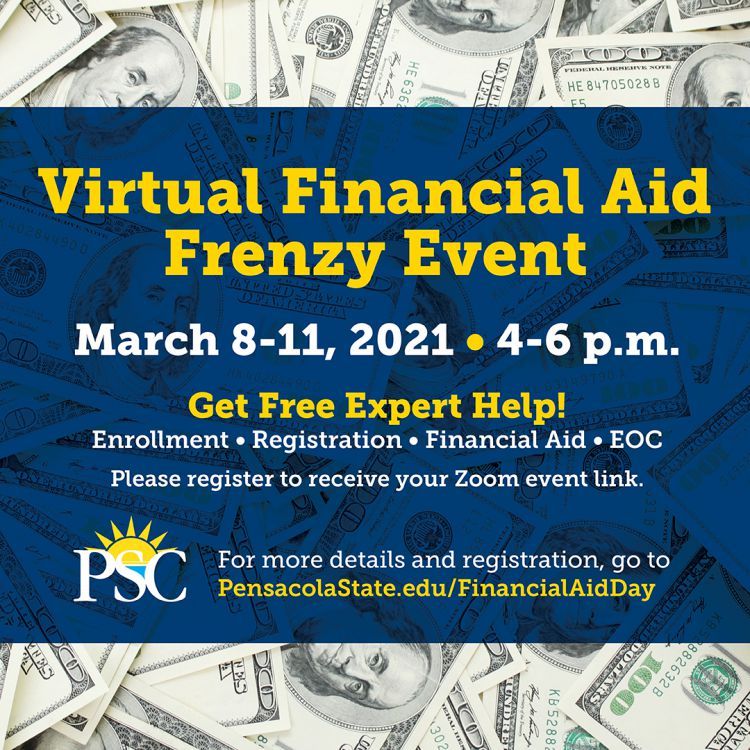 A key feature of the Frenzy event is to help students reduce any financial burden that might be a perceived obstacle.
More than 80 percent of all first-time, full-time PSC students received some type of financial aid – grants and scholarships, including federal, state, local and institutional awards, according to a recent PSC Integrated Postsecondary Education Data System's Financial Aid Component Overview.
Ninety-five percent of PSC students have never had to take out a student loan, according to the report.
Even though financial aid is available to most PSC students, only 53 percent of all students receive some type of financial aid. Financial Aid Director Joanne Rozborski said navigating the steps to get that aid can sometimes be intimidating to first-time students.
"Financial aid can be complex, and some students aren't quite sure what to do," she said. "This is an event where we can help ease some of their concerns and help them through the process."
Normally, PSC holds a Financial Aid Day event on the Pensacola campus, but this year's event was canceled because of the COVID-19 pandemic.
Instead, the four-day Virtual Financial Aid Frenzy will allow students – and their parents or guardians – to receive the necessary information and guidance.
For more information on financial aid, call 850-484-1680 or email FAVA@pensacolastate.edu.