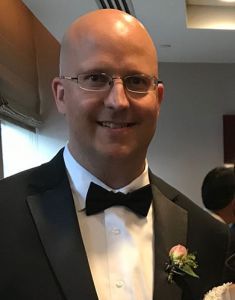 Published: 06-05-2018
Before Marcus Lackey graduated from the International Baccalaureate program at Pensacola High School, he had never traveled very far from his Pensacola home.
"I had never been north of Tennessee," Lackey said. "In 1995, I showed up in Washington, D.C., with a full-ride U.S. Navy ROTC scholarship to Georgetown University."
In 2000, Lackey graduated from Georgetown with his bachelor's degree and was commissioned as a naval officer. He served four years, left the Navy and worked in real estate for a few years before going to Wharton School at the University of Pennsylvania in pursuit of an MBA, which he received in 2009.
By 2011, however, Lackey was back in Pensacola living with his mother. He said he'd experienced depression while he was in college, but it wasn't until he hit rock bottom in 2010 that he was diagnosed with bipolar disorder.
"Bipolar won. I had an MBA from one of the top finance schools in the world and now I'm back home in Pensacola delivering pizzas," he said.
Lackey added it took him a long time to get the correct diagnosis. He began reading about mental illness ─ hoping to uncover the answers. He joined a local support group sponsored by the National Alliance on Mental Illness (NAMI.) NAMI offers free classes for families who deal with a loved one's mental illness, along with "Connections," a group which provides support for people who suffer from mental health issues and offers training to peer counselors.
"By the grace of God, I was never arrested. I was never psychotic. I never attempted suicide. I never had an addiction. People with bipolar are five times more likely to be addicted to alcohol or drugs at some point in their lives. It's horrifying to know this," he said.
When Lackey's father, Walter Lackey, encouraged him to assist with a local chapter of the Kairos Prison Ministry, an idea began to form.
"I was very bothered by the fact that people with mental illness are just completely screwed. In prison, they're basically tortured," he said. "In my case, someone with my disorder is five to seven times more likely to be homeless or incarcerated than the average individual."
Lackey said he used his peer counseling skills to minister to medium-security prisoners – listening to them, encouraging them and praying with them.
"It's not a hard sell, it's just really a supportive kind of thing …just letting them know that someone cares about them."
Lackey began toying with the idea of attending medical school.
"I thought it was insane," conceded Lackey, but he decided he could use his personal experience with mental illness to help others. The idea transitioned into a plan.
"I ended up using Pensacola State and the University of West Florida together to meet my needs for my pre-med steps," he explained. "When I combined the two that was a very effective strategy."
Lackey speaks highly of his instructors at Pensacola State.
"I found some really good people. I really felt like the teaching quality was very high," he said, noting the college's instructor-to-student ratio was conducive to a good learning environment.
He credits instructors Paula Brush, William Radcliffe, Rita Thasher and Sonya Urnowey as being not only good teachers, but providing the encouragement and inspiration he needed.
And then there was Michael Johnston.
"He was a real mentor to me. He really played a pivotal role in my development and in my admission to medical school," Lackey said, adding he got to know Johnston while working at the Hope and Health Clinic, where Johnston volunteers.
"Mike is interesting because … when you boil it down, he's always like, 'How can I help?' He's phenomenal," Lackey said.
It took Lackey about 14 months to complete 1,500 volunteer hours at the Hope and Health Clinic, but his determination was still tinged with a shadow of doubt. He credits the mentorship of psychiatrist Venkata Sompalli as providing the momentum that carried him on to the next step.
Lackey had everything in order, and it was time for him to apply to the Florida State University College of Medicine, but the specter of uncertainty remained.
"I struggled with the idea that I should disclose my bipolar disorder," he admitted. "It felt like the right decision. The dramatic loss and the disruption to my life and the resulting empathy and the desire to be a psychiatrist myself to treat people who are homeless or low income or incarcerated – it just made sense in the context of my story. I went forward with it."
Lackey confessed that there were some hiccups in the process – he was put on a wait list after he made a mistake on an intermediate application – but he still forged ahead.
"You have to think somebody was playing behind the scenes," he said. "I was eventually called in for an interview with an internal medicine doctor at FSU and she said to me, 'I loved your statement, it was so brave.'"
The doctor, Lackey said, told him she had personal experiences with mental illness among her family and friends, but also had professional experience in trying to recruit people to treat mental illness.
"Our interview finished up and she said, 'I really want you here,' and I was like, 'Great, I really want to be here!'" he said.
Lackey still wasn't sure he had a chance. According to him, of the more than 6,000 applicants, only 120 students were admitted between 2016 and 2017. And 97.5 percent of those admitted were 29 or younger. None were older than 40.
On May 9, Lackey was formally accepted to the FSU College of Medicine.
"Man, I told them I had bipolar disorder and I told them I'm 40 years old and they still let me in!" he said.
Lackey credits his parents with providing the crucial support system he needed.
"My father is a saint. Both of them are. My parents, I wouldn't be alive without them. They're just wonderful people."
Lackey's father (Walter) is retired but continues to work with the Kairos Prison Ministry. His mother, Debbie Hooks, earned her nursing degree at Pensacola Junior College and is a cardiology nurse at Baptist Hospital.
While the story of a hometown quadragenarian using Pensacola State as a stepping stone to medical school is uplifting, Lackey said sharing his struggles with bipolar disorder is an important step to eliminating the stigma.
"If we could push all of our problems into a big heap and just shine the brightest light we can on them, they probably wouldn't have the impact that they do," he concluded.
Lackey said his story is not a perfect narrative, but he hopes others will find inspiration in his journey, where he says one of the crucial stops was at Pensacola State College.