Adult Education Admissions Form
Last modified: July 23, 2020
NOTE:  This is an interactive form.  The fillable features of this form may not function if it is opened straight from your web browser.  Please follow the instructions below to download and fill the file out:
1. Click the link below to download the file:
Adult Education Admissions Form
2. You will see a notification at the bottom left of your browser screen.  Click the arrow to the right of the filename.

3. A menu will pop up.  Click 'Show in Folder'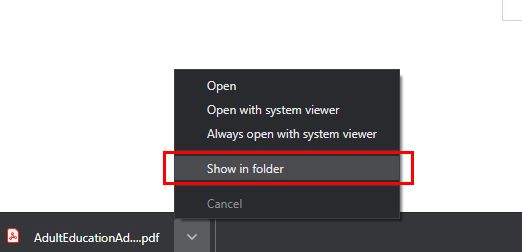 4. Your file explorer will open.  Right click the file that you downloaded and scroll down to 'Open With' and then you will be presented with a list of apps to open the file with.  Click 'Adobe Acrobat' and the file will open, allowing you to fill the interactive form out using Adobe Acrobat.  NOTE:  You may see 'Adobe Acrobat Reader' instead of 'Adobe Acrobat DC' as shown in the screenshot.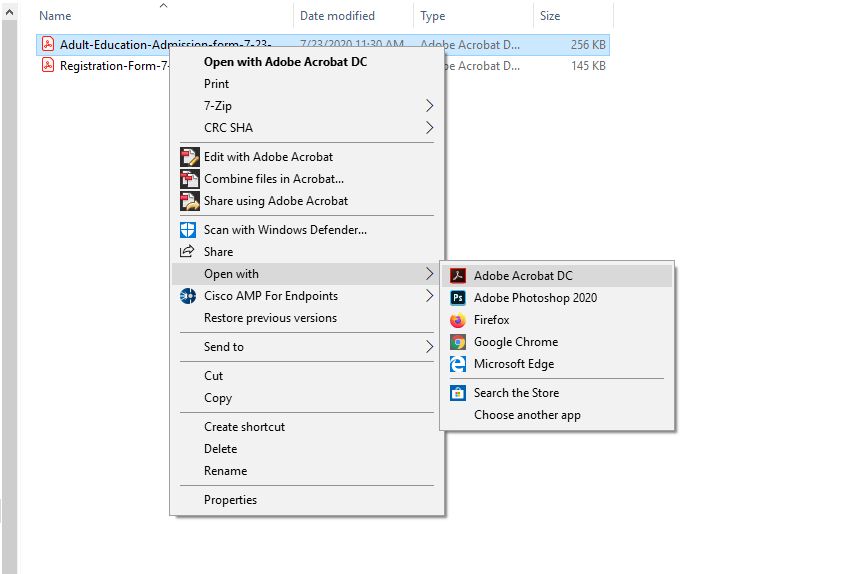 If you do not have Adobe Acrobat, you can download it for free from this link:  Adobe Acrobat Download
* Make sure the email address in the To: field says abe@pensacolastate.edu after clicking the 'Submit' button.