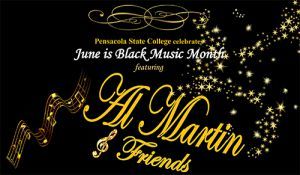 Published: 06-18-2018
Renowned musician Al Martin and Friends will present "Standing Ovation: The Most Incredible Night of Music!" at 6 p.m. Saturday, June 23, in the Jean and Paul Amos Performance Studio.
Sponsored by Pensacola State College's Black History/Multicultural Committee, the event will commemorate June as Black Music Month and feature Martin along with friends and vocalists ─ Josephine Mayo, Phyllis Enzor and Kezhane Chester.
A jazz pianist, organist, musician and composer, Martin has been playing and teaching the piano and organ for more than 50 years. He studied music at Pensacola State and the Berklee College of Music, and has played in a variety of bands from Big Band to ensemble to solo.
Locally, he has participated in many community theater productions including "Ain't Misbehavin," "The Wiz," "Jesus Christ Superstar" and "Nunsense." He also served as music director for the off-Broadway production of "Automatic Love" in New York, was the resident pianist for the PSW Showcase Club, and a headliner at Chillie's.
General admission tickets are $10, café seating is $20. The event is free for Pensacola State students with current ID.
Tickets can be purchased from 7 a.m.-4:30 p.m. Monday through Thursday at the college, building 7, Room 705 on the Pensacola campus. Only cash and checks will be accepted.
Tickets also will be available on the day of the concert at the Amos Box Office from 4-5:30 p.m. Only cash will be accepted.
The event will be taped for future airing on the "Aware" program. Attendees are asked to be seated by 5:30 p.m. For more information, call 850-484-1759.