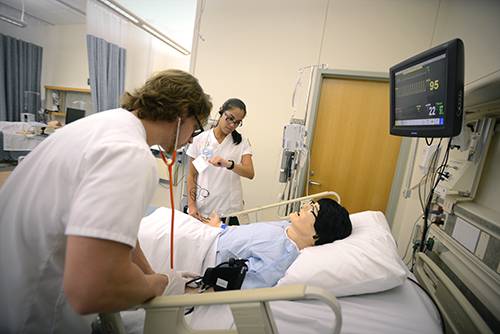 Contact the Pensacola State College Nursing Department for assistance in planning your program of study.
View Course Requirements
RELATED DOCUMENTS
RELATED LINKS
SITE LINKS
SEARCH PROGRAMS
INTRODUCTION
The Nursing Assistant Program consists of one class taken after one core course in the same semester. The program provides technical skill proficiency, competency-based applied learning that contributes to the academic knowledge, higher-order reasoning and problem-solving skills, work attitudes, general employability skills, technical skills, occupation-specific skills specific to patient care.
Successful completion of the program prepares students for certification for employment as a Certified Nursing Assistant in a nursing home, in accordance with 464.203, of the Florida Statutes.
Special Admission Requirements
Admission is limited by special accreditation requirements and/or the availability of clinical resources. Students seeking admission to the program must complete application to both the College and the Nursing Assistant program. All application requirements must be completed before students will be considered for admission to the Nursing Assistant program. Students must hold a high school diploma or GED equivalent, and an overall 2.0 grade point average.
Program Progression
Students must earn a grade of C or better in all courses leading to completion of the Nursing Assistant Program. Background check, drug screen and health form, and appropriate immunizations are required for all applicants. A student whose drug screening and criminal background checks are deemed unsatisfactory may be denied access to clinical experiences by the clinical agency. Failure to qualify for and meet clinical requirements at clinical sites will prevent completion of the program. Withdrawal from the program may be necessary if students cannot be placed for clinical experiences, and withdrawal for these reasons after drop/add period will not include reimbursement of tuition and fees.
Occupations
Medical and Health Services Manager
Plan, direct, or coordinate medical and health services in hospitals, clinics, managed care organizations, public health agencies, or similar organizations.
Nurse Practitioner
Diagnose and treat acute, episodic, or chronic illness, independently or as part of a healthcare team. May focus on health promotion and disease prevention. May order, perform, or interpret diagnostic tests such as lab work and x rays. May prescribe medication. Must be registered nurses who have specialized graduate education.
Nurse Midwife
Diagnose and coordinate all aspects of the birthing process, either independently or as part of a healthcare team. May provide well-woman gynecological care. Must have specialized, graduate nursing education.
Nurse Anesthetist
Administer anesthesia, monitor patient's vital signs, and oversee patient recovery from anesthesia. May assist anesthesiologists, surgeons, other physicians, or dentists. Must be registered nurses who have specialized graduate education.
Clinical Nurse Specialist
Plan, direct, or coordinate the daily patient care activities in a clinical practice. Ensure adherence to established clinical policies, protocols, regulations, and standards.
Other Occupations
Critical Care Nurse
Advanced Practice Psychiatric Nurse
Acute Care Nurse
Registered Nurse
Nursing Instructor and Teacher, Postsecondary
Licensed Practical and Licensed Vocational Nurse
You May Also Be Interested In...