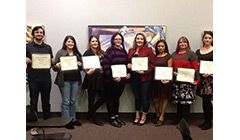 Published: 11-21-2016
A story about spiked punch and marijuana-laced brownies at a Mormon gathering.
A single mother's anthem about empowerment.
And a composition comparing the Black Lives Matter movement to "The Hunger Games."
These social issues and more ruled the day when the winners of the 2016 Walter F. Spara Writing Competition were recognized Thursday, Nov. 17, at the Anna Lamar Switzer Center.
The competition is named for Spara, a Pensacola State English professor from 1966 to 2000, who initiated the college's creative writing program and its nationally recognized literary journal, "Hurricane Review."
In the short story category, Sarah Richards' "The Punch-Drunk Potluck" won first-place.
"My story is probably what would happen if some Mormons had a taste of alcohol and a little marijuana added to their diet," explained Richards, who is in fact, a former Mormon.
"I like mixing humor with serious social issues and thought this was a good combination."
A health information technology major, Richards also placed second last year in the competition's essay category for "Every Little Thing."
Another 2015 winner, JoLene Wolfe, won first place in the poetry category for "She Is," a heartfelt expression about her love for daughter – the No. 1 priority in her life.
"I'm a single mom so I focused so much on my daughter. I have a few friends I love but at the end of the day, it's always all about my daughter," said Wolfe, who won first place in the 2015 competition for her essay titled, "What I Learned from Hurricane Katrina."
Kenneth Oleson, the first-place winner in the essay category, used an English class assignment as a prompt for his "Comparison of Conflicts in 'The Hunger Games' and Society Today."
"I chose the Black Lives Matter movement because it's an important social topic and I wanted to present it to a white audience in a manner I thought they could relate to," said Oleson, a general education major.
"Everyone, well almost everyone, is familiar with Suzanne Collins' 'The Hunger Games' trilogy about an all-ruling Capitol and the downtrodden and mistreated residents who live in the districts. I used my essay to reveal how we are sometimes removed from things that happen in our society."
First-place winners received $100, second place, $50, and third place award was $25. Other 2016 winners and their categories were:
Short-story:
● Second place: Devon Kraeger's "The Tampon"
● Third place: Kelli Green's "Elizabeth"
Poetry:
● Second place: Devon Kraeger's "Isabella"
● Third place: Kelli Green's "Paper Dolls"
Essay:
● Second place: Nicole Needles' "The Battle on the Homefront"