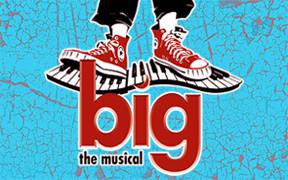 Published: 07-09-2014
Pensacola State College's 24th annual Summer High School Onstage Workshop (SHOW) features 33 local high school students in "Big: The Musical" July 25-27 and Aug. 1-3.
Friday and Saturday performances are 7:30 p.m. and Sunday performances are 2:30 p.m. at the Ashmore Fine Arts Auditorium, Building 8, on the Pensacola campus.
"Big: The Musical" is a lighthearted adaptation of the blockbuster movie "Big," starring Tom Hanks. It is the witty – yet touching – story of 12-year-old Josh Baskin, who grows up overnight after being granted a wish by a an arcade machine at a carnival. With the aid of his best friend, Josh must cope with his new adulthood while finding another arcade machine so that he can wish himself back to a kid again.
The musical is packed with 20 lively numbers including "I Want to Go Home," "Fun," "Cross the Line," "It's Time," "Coffee, Black" and "When You're Big."
Cast members include Mischel Johnson, Aubree Stillman, Alex Eddins, Loren Stone, Veronica Lindholm, Christopher Spears, Kathan Brannon, Christina Bryan, Garrett Summitt, Nicole Lautenschlager, Ethan Price, Delaney Beal, Gordia Hayes, Josiah Molchanoff, Paige Hurst, Arion Fountain, Savannah Quinn, Daniel Haupt, Sade Crosby, Kendall Parrett, Blake Gilmore, Stephanie Gutierrez-Diaz, Summer Boyle, Cassidy Beal, Alex Spradling, Hallie Friedman, Jamilah Muhammad, Terrace Golston, Essence Gainey, Ashley Kellenberger, Katie McGhee, Icy Rich and Tyra Smith.
The PSC production team includes technical director Bob Gandrup, musical director and conductor Benjamin Drennan, choreographer Michael Dennis, costumer Edee Green, assistant director Elizabeth Watson, associate director Jennifer Bunnell, and director Rodney Whatley. SHOW is a tuition-free theatre program for high school students offered by PSC each summer since 1991.
All tickets are $16. They are available online at www.pensacolastate.edu/mt and at the Lyceum Box Office, Building 8, Room 861, from 8:30 a.m. to 4 p.m. Monday – Thursday and one hour before a performance.
For ticket reservations and information, call 850-484-1847.