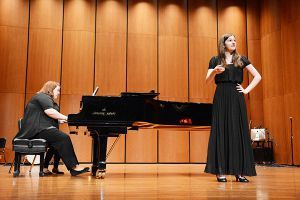 2 Pensacola State students win FCSAA vocal competition
News Article Published: 02-14-2017

Robert "Bobby" Arnold and Lori Perko – are among the best vocalists in the Florida College System.

The two vocal performances majors won the male and female vocal categories at the Florida College System Activities Association Music Symposium Student Artist Competition held Jan. 26-28 at Jacksonville University.

Arnold, a tenor, competed against 10 male vocalists, while Perko, a soprano, beat out eight female contestants from colleges across Florida for the honors. As winners, both will receive $1,000 per year for their junior and senior years at a Florida university of their choice.

Don Snowden, Pensacola State's district academic department head and director of bands, said this marks the first time the college has had multiple winners in the FCSAA music competition.

"We are very proud of these students and their teachers, Xiaolun Chen (Arnold) and Trudie Sherwood (Perko)," he added. "We appreciate the support we receive to enable our students to attend these events."

Arnold, 25, and Perko, 19, described the historic double win as a surreal experience.

"The vocalists are the last winners to be announced and when I heard Bobby's name, I was so happy and proud of him. It had crossed my mind that it would really be cool for us both to win but it was just a thought," said Perko, who will graduate in May.

"When my name was called, I was thrilled. It was truly an amazing moment."

Arnold said after competing in 2016, he really prepared for this competition.

"I didn't even place last year but I knew what I had to do – so I practiced every day, ran every day, and just did what I needed to do. That was my mindset, I wanted to do well and I wanted to succeed," said the former boxer who will graduate in May 2018.

The 2010 Pine Forest High graduate sings a variety of genres from classical to rock and hip-hop.

"I've been singing since I was young but never realized my range until I enrolled here at Pensacola State," he said.

Arnold said he hasn't decided where he'll continue his education after Pensacola State, but he definitely wants a career as a performer.

Perko, a 2015 Escambia Virtual Academy graduate, has been singing for about 10 years, and hasn't chosen where she will continue her education.

"With music programs, you must audition so I'm in the midst of doing that right now," she explained. After earning a bachelor's degree in music education/music performance, she plans to also seek a master's degree: performance

"Eventually, I want to become a choir director or pursue a career in the opera," she added.

Also during the symposium, 27 Pensacola State students participated in a statewide band, chorus and guitar ensemble led by the Jacksonville University faculty.

Sponsored by the FCSAA and the Florida Association of Schools of Music, the Student Artist Contest is open to community/junior college music students. Students compete in categories of brass, keyboard, percussion, strings, woodwinds, classical guitar, voice and jazz performance.






Pensacola State College piano and composition instructor Kadisha Onalbayeva was recently named a Steinway Artist by Steinway & Sons.

She joins a distinguished international roster of Steinway Artists including Billy Joel, Diana Krall, Harry Connick Jr., Lang Lang, Michel Legrand and past music greats such as Irving Berlin, Cole Porter, Sergei Rachmaninoff, and Arthur Rubinstein.

"Becoming a Steinway Artist is a huge accomplishment for Kadisha," said Don Snowden, PSC Performing Arts Department head. "The college and our department is very proud of her and the prestige it will bring to us."

Onalbayeva is the very first Steinway Artist from her home country of Kazakhstan. She began her musical training at age five. She attended the Jubanov Special School for talented children and the Kurmangazy National Conservatory of Music in Kazakhstan where she studied piano and composition, gave recitals, and was involved in both piano and composition festivals and competitions all over the world.

Kadisha Onalbayeva continued her performances as a recitalist, chamber musician, composer, and as an orchestral soloist. She earned two Master of Music degrees at the University of New Orleans and then received her doctorate at Louisiana State University. Over her career, she has given more than 60 solo concerts and has participated in more than 200 concerts as an accompanist and chamber soloist.

She is also Artist-in-Residence at the University of Mobileandis co-directorand pianist of the chamber ensemble, The Gulf Coast Virtuosi. In July 2011, she released a solo CD titled, "Muzik…Menim Wuomerym…" meaning "Music…My Soul…" that consists of live performances in both Kazakhstan and the United States.
The Pensacola Guitar Orchestra, directed by Dr. Joe Stallings, attended the annual Guitar Foundation of America's International Convention in Charleston, South Carolina.
Front row: Alex Martin, Chelsea Strickland, Greg Lyon, Winston Leech, and Christian Dinh.
Back row: Beau Buck, Michael Rimes, Eddie Rodriguez, George Phillips, Michael Callas, Matthew Lamb, Derrick Javier, Michael Gravlee.
Not pictured: Megan Juntunen
Pensacola State College Music Students Receive Scholarships


David Kersey, tuba, and Taylor Lauria, saxophone, are the recipients of the 2017 Ike Terry Memorial Scholarships presented by the Cantonment Rotary Club each year. The scholarship was established for the late Ike Terry, minister of music at First United Methodist Church and member of the Cantonment Rotary Club. Pictured: Mr. Jack O'Donnell (CRC), David Kersey, Taylor Lauria, Mr. Don Snowden (Department Head of PSC Performing Arts).
The scholarship was established for the late Ike Terry, minister of music at First United Methodist Church and member of the Cantonment Rotary Club.