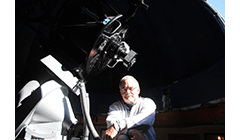 Published: 09-22-2015
Noted astronomer P. Clay Sherrod explores the phenomenon of unidentified flying objects (UFOs) at 6:00 p.m. Saturday, Oct. 3, at Pensacola State College's Hagler Auditorium, Building 2, on the Pensacola campus.
The public is invited to this free lecture and audience participation forum that is ideal for students and families.
Sherrod presents the history of UFO sightings and demonstrates the modern view of UFOs, extraterrestrials and the possibility that Earth is being visited by aliens. He examines where the sightings normally occur, what the typical report contains, and the physical makeup of these aliens as described by those purporting to have seen them.
In addition, Sherrod covers the psychological influence that the UFO revolution has had on everything from lifestyle and media to architecture throughout the world.
Common misconceptions and identification mistakes are also presented, showing how many times common events and objects can be mistaken for alien spacecraft.
Examples of reported UFO's will be shown, as will many photo-shopped hoaxes including the famous 1987-1991 Gulf Breeze UFO hoax that made world headlines before accomplices came forward to reveal the originator behind the hoax.
Sherrod is director of Arkansas Sky Observatories, one of the nation's oldest private observatories. His presentation is sponsored by Pensacola State College and the Escambia County Amateur Astronomers Association.
For more information, call PSC Dean of Baccalaureate Studies and Academic Support, Douglas Wymer, at 850-484-1764.